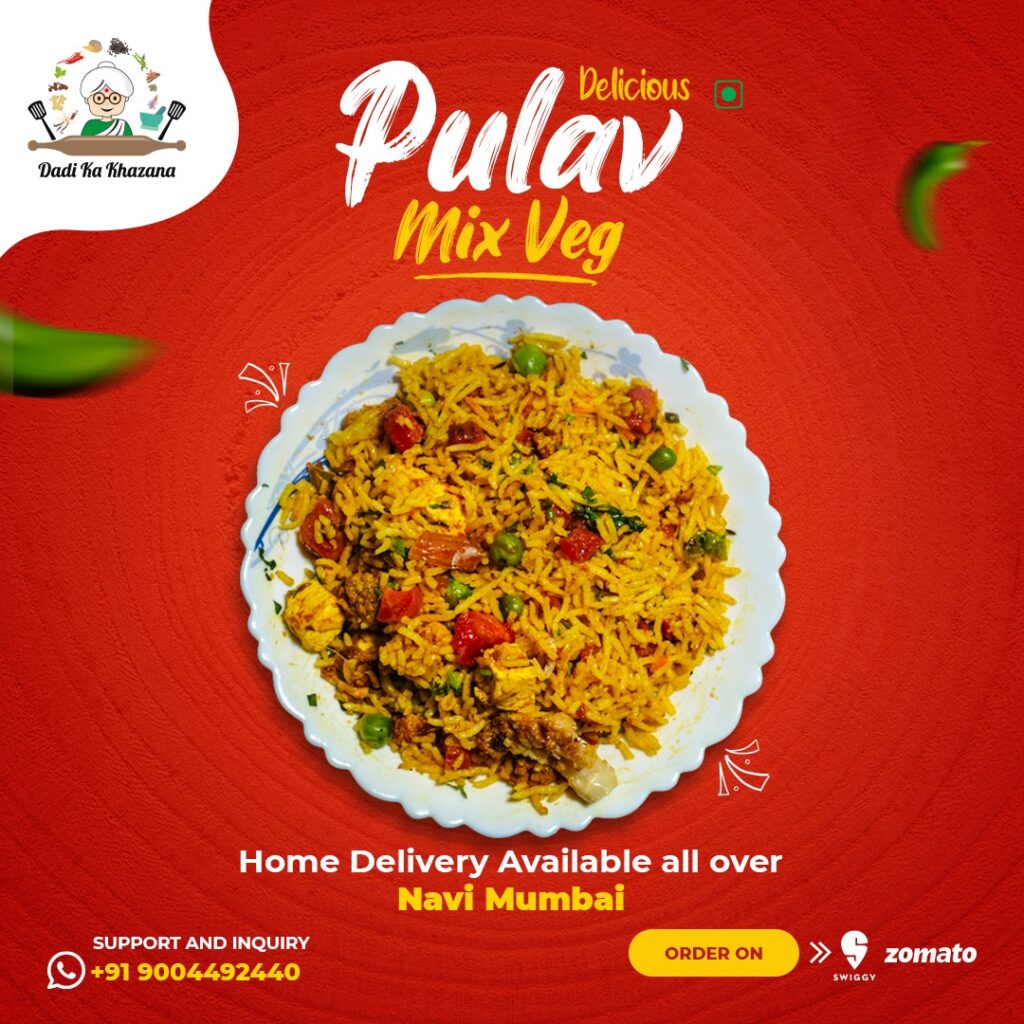 Veg Pulao- A scrumptious dish everyone craves for!
Well, we all know that our staple food is rice. We have been experimenting with our staples to make them more lip-smacking since ages. Wherever you go in India, you will find rice with a new garment.
After all, diversity in food and culture defines us. Every state has its promising variety of Rice or veg Pulao.
Let's explore what is there on the menu card of Dadi ka khazana?
Have you ever tried the best veg pulao in Navi Mumbai? if not, then let's get insights of the varieties of Vegetarian Pulao
Varieties of Veg Pulao @Dadi ka Khazana- the best of all states of India
Surprisingly, we have wide range of pulao for rice lovoers! Exclusive recepies from other states have been prares by the expert hands.
So, let's dive in the veg Pulao's pool-
#1 Kashmiri Veg Pulao: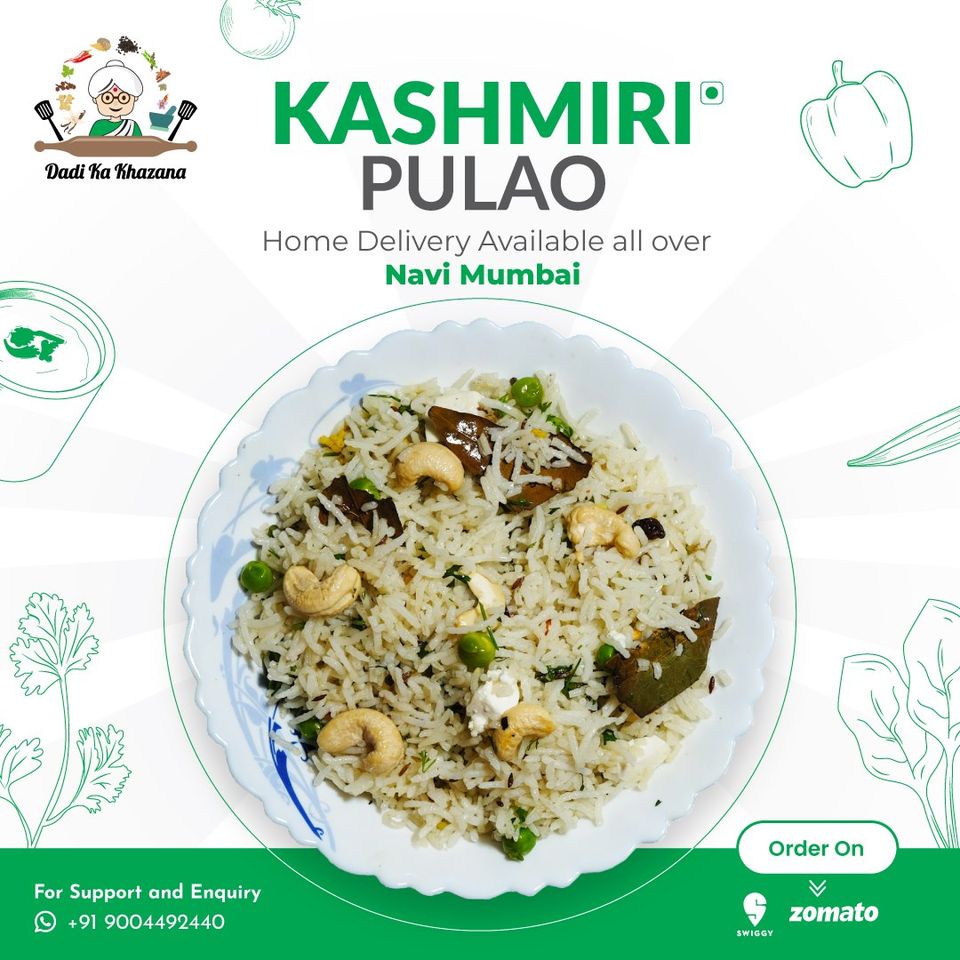 As you can see in the picture, Kasmiri veg pulao is a mind-pulling dish of the Kashmir area. Likewise the beauty of Jammu and Kashmir, This veg pulao is simply irresistable.
This variety of veg pulao is a little bit sweet in taste and filled with the goodness of lots of dry fruits, ghee and veggies.
Also, made with a blend of exclusive spices, this pulao will surely make you end up wanting more!
So why waiting?
#2 Sev Pulao: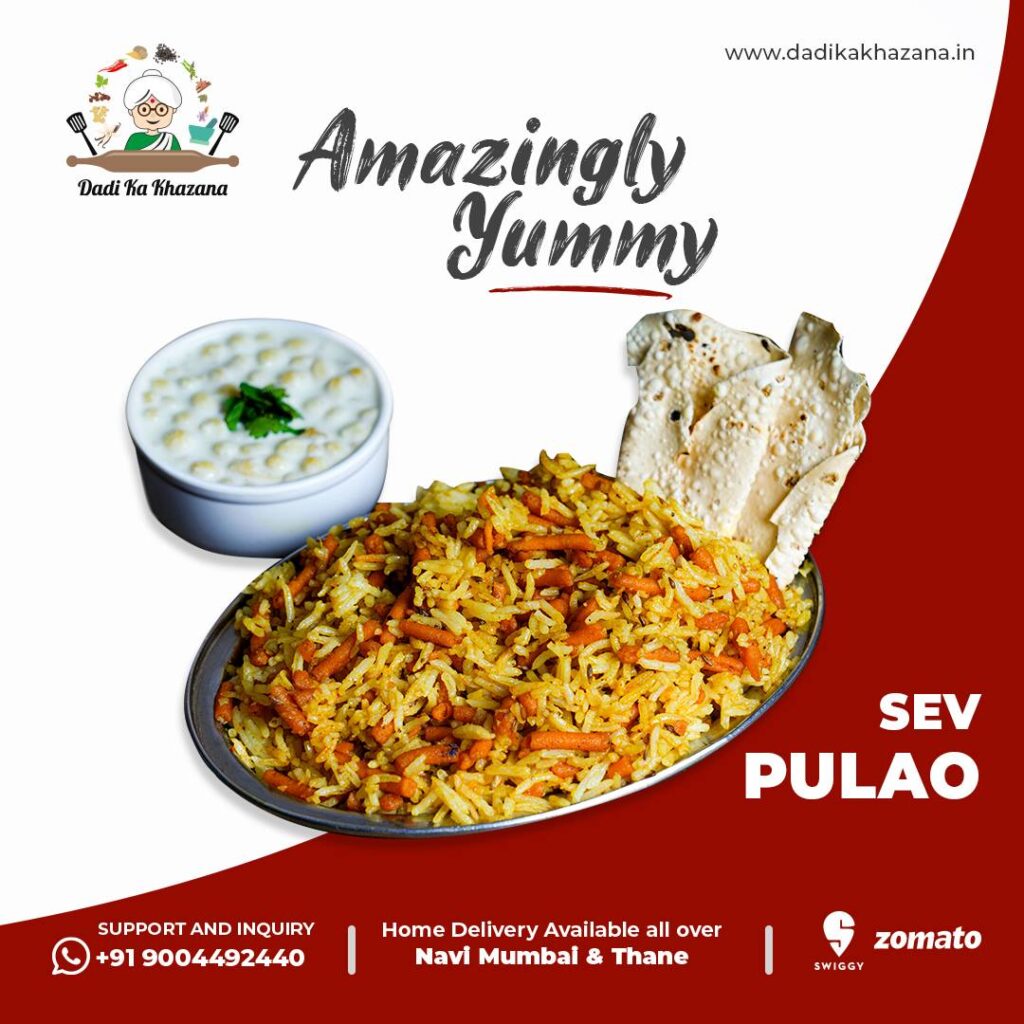 Have you ever tried the Sev Pulao? If not , then just order now.
But before that, you must know its specialties.
Sev Pulao- By the word 'Sev' it defines its origin and that is Rajasthan. Yes, this is the dish from the Rajasthani Cuisine.
Spicy and tangy rice pulao is prepared with a blend of spices and the sev made from Gram Flour that is Besan. Rice gets cooked with everything and served hot.
Can you imagine the taste?
No need, of course, we are here for you.
#3 Pulihora Rice: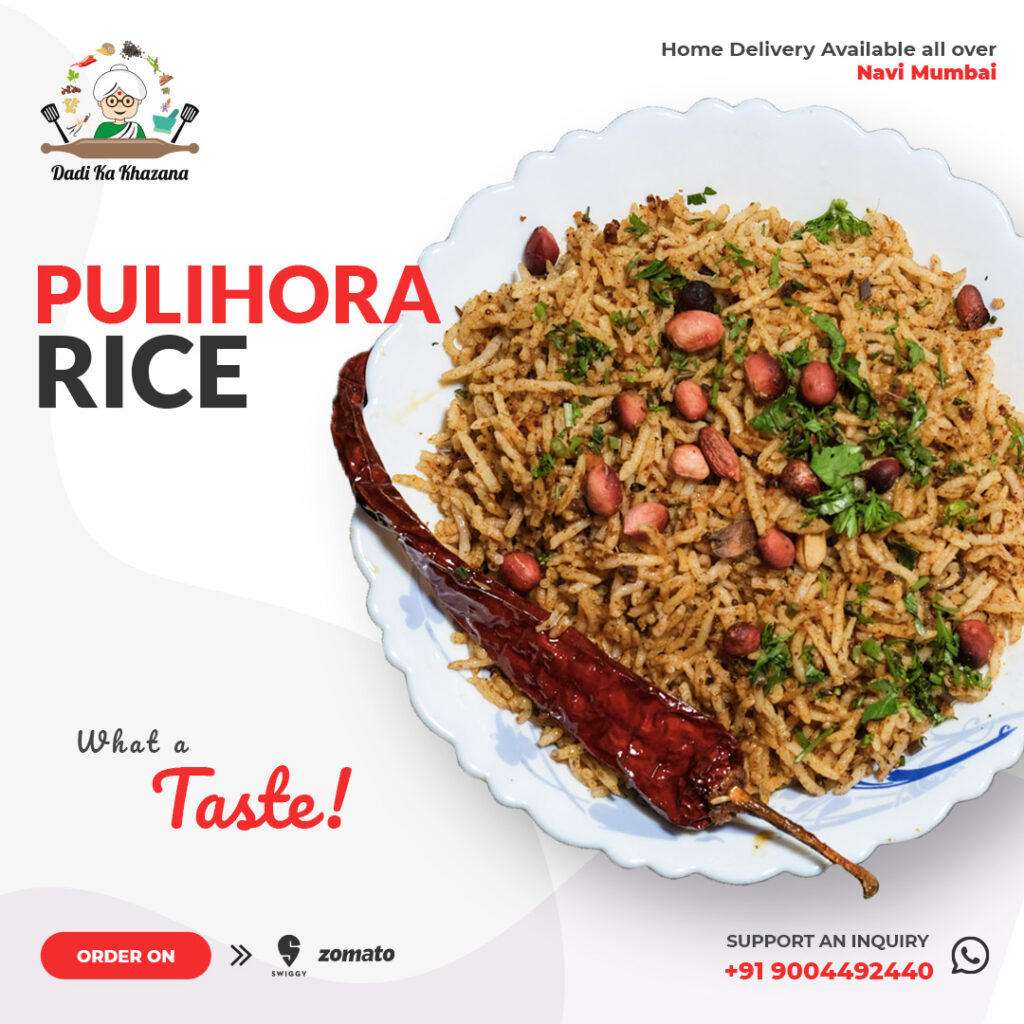 Pulihora Rice
Pulihora Rice- is the signature dish of Andhra Pradesh that is served as prasadam in temples.
The preparation of this rice is completely different and obviously made with the South Indian way. Using less spices is the key to make this rice.
Usually garnished with peanuts and blended with sweet and light spices and tamarind chutney, it is a worth trying!
#4 Gatte Pulao: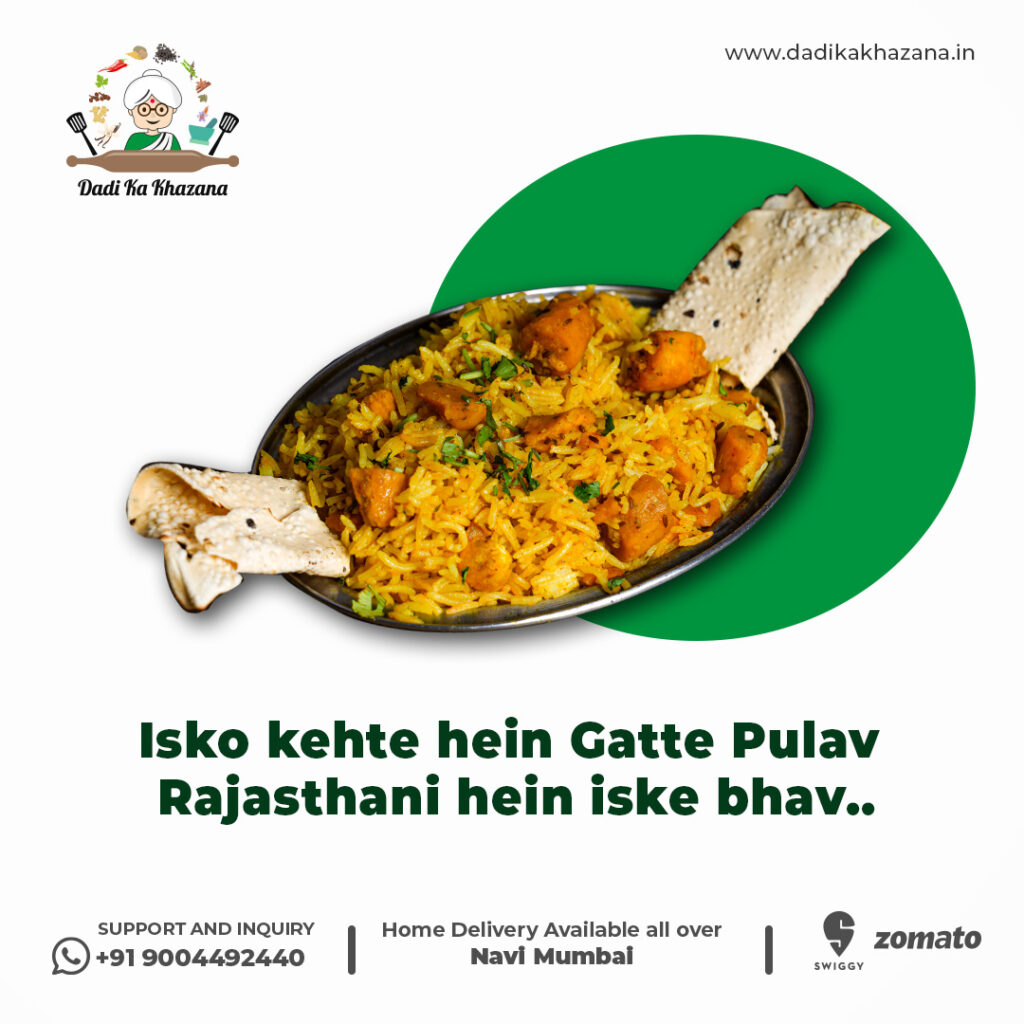 Gatte- Gatte means Rajasthan. And yes, Gatte pulao is one of the most demanding rice in Rajasthan. Gatte is the chunks prepared with the gram flour and then rice gets mingled with the Rajasthani spices.
If you love spicy food, then this rice is good to try.
You will be amazed to see the texture and the taste it leave in your mouth and on your taste buds.
Give it a try now.
#5 Lemon Rice: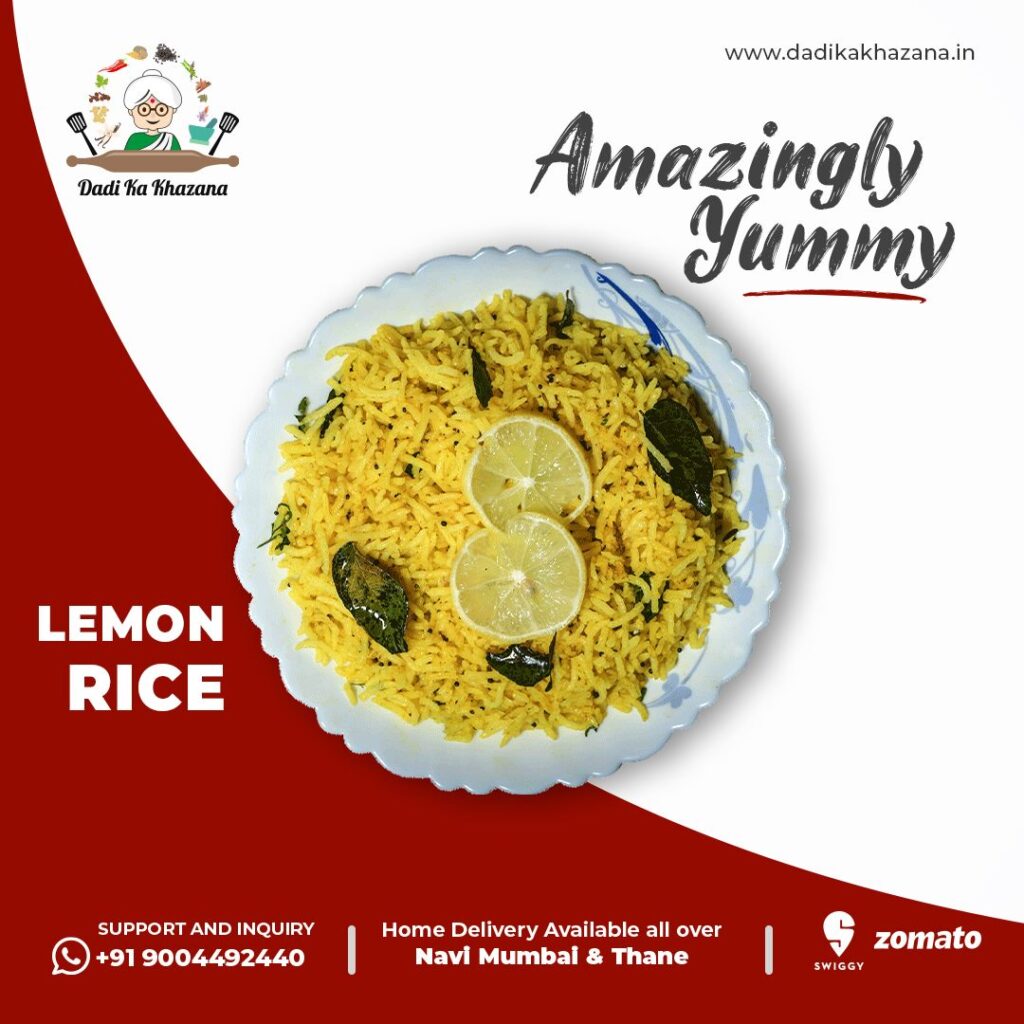 Lemon Rice- Hailed from South India, this rice dish is a wholesome meal.
Not to mention, this is made with simple spices of South India yet, you can feel every bite of it. It is best to have if you don't want to order heavy meals. Being lemon the main ingredient, Lemon Rice is simple to digest and relieve your stomach.
Also, goodness of peanuts and mustard seeds and of course curry leaves will surely take your tiredness away.
How about ordering your plate of Lemon Rice now!
#6 Tava Pulao: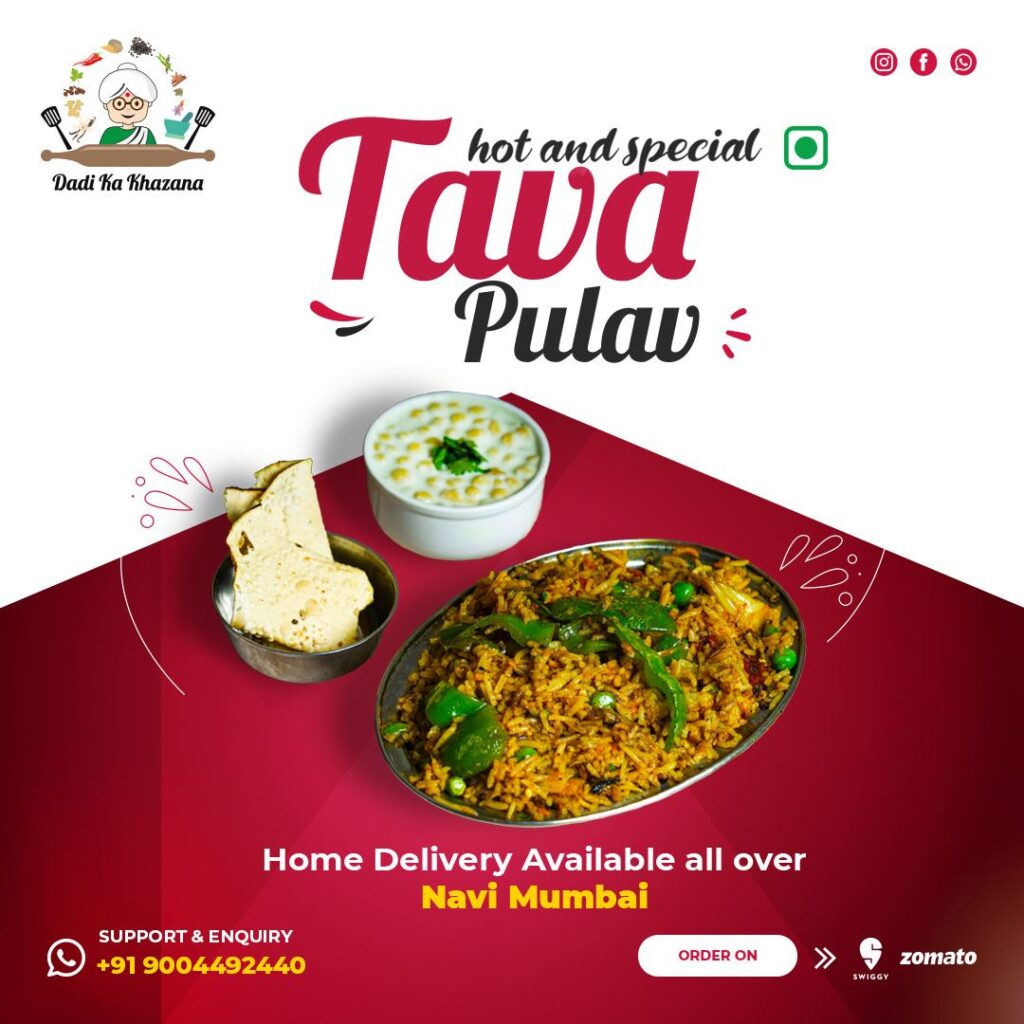 Tava Pulao is a special type of pulao you will find on the street of Mumbai. This veg pulao is the heart of Mumbaians.
Interestingly, Tava pulao is the perfect blend of Rice with lots of vegetables and the Pav Bhaji masala.
So, dear Mumbaians! Do you want to try the best Tava veg pulao of Navi Mumbai?
Your taste buds will thank you for the treat for sure!
#7 Matar Pulao: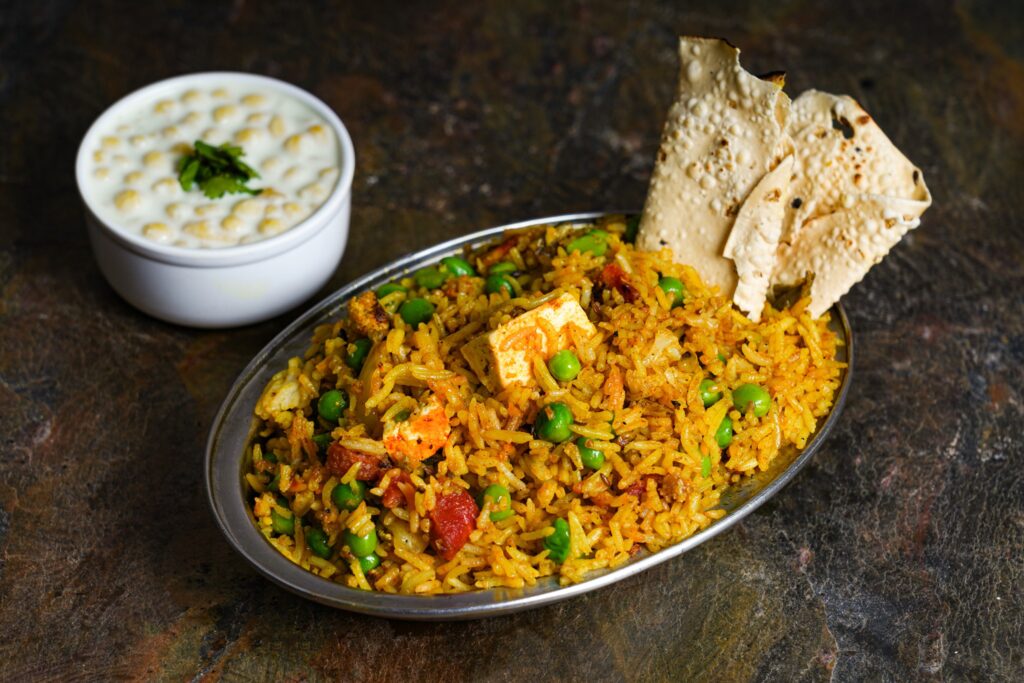 The one dish without which no wedding or party in North India takes place is Matar pulao. It is one of the best veg Pulao and of course the most consumed one.
Matar is a very good source of protein and antioxidants. When peas mingled with spices and rice and also topped with some fried paneer and vegetables, the beauty and taste simply divine.
Feeling mouthwatering? Then why are you waiting?
Order and enjoy the best veg Matar pulao in Navi Mumbai.
Hey there! Wait! we have more varieties of pulao. Explore our menu to taste the best veg pulao in Navi Mumbai.
Enjoy the best versions of veg Pulao from all over India at Dai Ka khazana.